Volunteer at the Warehouse
You are invited to sort and organize shoes with us (SOS)! This is a hands-on 2 hour volunteer event that you don't want to miss! You will have an important role in supporting the SFJ mission through the final stages of preparing the shipment for Africa, while gaining first-hand insight into the operations of the organization.  There are a variety of dates and times each month to choose from, and individuals, families and groups are encouraged to sign up. We do prefer that warehouse volunteers are 12 years or older, however, all ages are encouraged to be involved in our Shoe Drive opportunities! Every volunteer opportunity at SFJ is an exciting time to work together toward changing lives! View our calendar to see SOS volunteer dates currently scheduled.
Please email Yenh Mikolajewski, at Yenh@SolesForJesus.org  to sign up for an SOS date, or to have your name added to our list of volunteers for the future.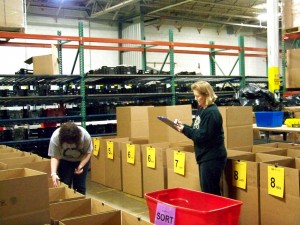 SFJ would like to schedule a special date to host your group! Are you a part of a sports team, Bible study, or club in your work, school, or community? Volunteering together to organize and pack shoes for Africa is a rewarding, 2 hour team building exercise for youth and adults (12+ years). Please call 414-365-1392, or email Yenh@SolesForJesus.org to set up your group volunteer date.