We invite people across the nation to get involved in Soles For Jesus by hosting a shoe drive. If you are located out of state, we don't want getting shoes to our warehouse in Milwaukee, Wisconsin to hold you back. We have some transportation ideas to help make donating shoes as easy as possible. Below, you'll find a few suggestions that will help to get you started.
Contact a trucking company
Contact local trucking companies and ask to speak to a supervisor or owner. Explain your shoe drive and ask if they would like to donate transportation services to help.
Sometimes driving to Milwaukee costs less than shipping. We have met people delivering shoes from Florida, Kentucky, and more. Think about taking a road trip; we would love to meet you!
Also, share your transportation needs via social media, email, and word of mouth. Someone with travel plans to the Midwest (e.g. Chicago) may be willing to drive through Milwaukee with the shoe donation. We have often seen transportation needs met after posting a request on Facebook!
We have found that UPS, Fed Ex, and Unishippers are usually the best value for mailing/shipping options. Consider organizing a special fundraiser or ask for sponsorship to help raise money for getting the shoes to SFJ.
This company offers two solutions to send your shoes directly to our Milwaukee warehouse.
ReloCube: This can hold approximately 1500 pairs of shoes when they are packed tightly in sturdy garbage bags. The ReloCube fits in a standard parking space (providing 350 cubic feet) and works well when loading at most residential addresses.
Trailer: This is a great way to ship shoes to us after a large shoe drive. It also tends to be the most flexible and economical. You can load the whole trailer, or use as little as 5 feet; and you'll be charged accordingly.
Click on the links above to learn more and to get a shipping estimate.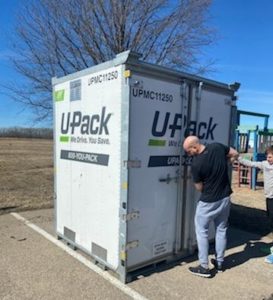 You can watch a video about how uShip works on their home page. Basically, you post your shipment, and transportation carriers bid on your request. The drivers who see your post will bid against each other to transport it, so you may get a great deal. In fact shoes were once delivered this way for free because the trucker wanted to donate his services and help get shoes to Africa.
When you arrange for transportation, please communicate that shipments should be delivered during business hours, Monday through Friday, 8:00am-5:00pm. Soles For Jesus is located on the north side of the Holland Beauty building, and the shipping/receiving docks are located next to our entrance.
Soles For Jesus
8835 W. Heather Ave.
Milwaukee, WI 53224
Please let us know when to expect the shoe delivery so we can be on the lookout for the boxes.
You can contact SFJ at 414-365-1392 or email info@solesforjesus.org.
Before you start your shoe collection, be sure to get in touch! We will send you information about promotional materials and how to get started. Please glance at our shoe drive information HERE, and email info@solesforjesus.org to get started!