Race For Soles
Family Fun Run & Walk
Saturday, July 13th
8:30am-11:30am
Registration is NOW OPEN and you are invited to join us!
*Take advantage of Early Bird Rates and Team Discounts by signing up now!
(See more info below.)
REGISTRATION  OPENS MONDAY, APRIL 4TH!


You can choose to walk or run a 2 mile or 5k course, and invite your friends and family to join in or cheer you on!
Teams of 8 or more are eligible for a special discount!
EXCITING UPDATE! Chipped timing is now available for 5K runners! We are excited to be working with a local race company to use the latest chipped technology to capture all 5K runners exact time and place. This provides an opportunity for those who wish to compete, and we are thrilled to offer this new feature.
The event starts and ends at the beautiful campus of Waukesha County Technical College, and we'll enjoy a scenic route through the streets of Pewaukee. The morning will also include medals, prizes, refreshments, exciting games and a special race for kids. By signing up and having fun, you are helping to touch lives across the globe. This event is for individuals and families of all ages.
Click above to view a slideshow of last year's event.
REGISTRATION  OPENS MONDAY, APRIL 4TH!

You can register online or by calling us at 414-365-1392. T-shirts are guaranteed for those who register by July 1st. All proceeds advance our mission of sharing shoes and the love of Jesus in Africa.

Click above to view a slideshow of last year's event.
Sponsorship Opportunities
Sponsorship is a great way to support SFJ, participate in the race and promote your community involvement. To learn more about the various sponsorship levels CLICK ON the list of options below. It is never too late to become a sponsor!

 Race Day Details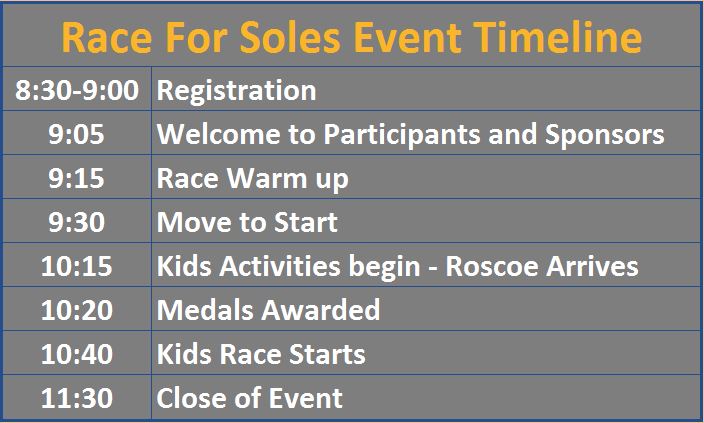 Directions
Waukesha County Technical College
800 Main St.
Pewaukee, WI 53072
Please plan to arrive at 8:30am to check-in. Follow these directions (from Milwaukee) to find WCTC, and follow the RFS signs when you arrive.
Take I-94W to WI-16 W towards Pewaukee.
Exit 188 for County Rd. JJ toward Main St.
Turn left onto Bluemound Rd. (signs for Main St.) and continue straight to WCTC.
Race Day Registration
Upon arrival, the registration tent will be located in front of the Service Building, on the south side of the campus. Please check in at the Registration Tables where you will receive your Race For Soles T-shirts. You will then be able to proceed to the starting area.
Liability Waivers
At checkout, you will be asked to check a box indicating your agreement with the terms of a liability waiver. Click here to read the waiver.
Cancellation Procedure
If the event must be cancelled due to severe weather or safety concerns, Soles For Jesus will post cancellation information on the Race For Soles web page as well as our Facebook and Twitter pages by 7am on July 13th.  We will also send an email to the address listed with your online registration.
If you have any questions feel free to Contact Us: info@SolesForJesus.org | (414) 365-1392.
Unable to attend the event? You can still touch lives in Africa by making a donation!

Follow us and share your thoughts: