November 23, 2016
Dear Friend,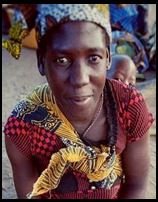 Life change in Jesus is powerful! Testimonies continue to pour in, especially from a younger generation who are longing for truth. Mosi shares, "I was raised in a family that did not know Jesus. Instead, they taught me to worship many different gods and I did not know about sin or salvation. While I was young, my parents arranged my marriage, and soon I began to have health problems. I was taken to magicians and witch doctors who could not help me. One day, a missionary came to my village with shoes and a message of God's love. I had nothing to lose, so I put my hope in Christ and He healed me of my sickness! I continue to be discipled by my Christ-group, and I'm praying for the rest of my family to know Jesus too."
Praise the Lord for Mosi's testimony, and this is why Soles For Jesus exists! Jesus said to, "Go into all of the world and make disciples of all nations." Mosi would not have found Jesus if we didn't, "GO!" With each shoe distribution in Africa, the spoken and written Gospel is shared and demonstrated by foot washing. Most of these new believers join a Christ-group, and as they are discipled, entire villages are changed for eternity!
We have an urgent need in Liberia and Malawi, right now. Each of these National Partners has presented me with a strategic plan for their nation, and has requested an immediate shipment of shoes to accomplish it. They have experienced how effectively the gift of shoes demonstrates the Gospel message, and there are new villages that the Lord has urgently asked them to reach. In Liberia, Pastor Holder has committed to reach 5,000 homes per month and 60,000 homes this year with the Good News. Our partner missionaries are ready to work and they're pleading for a shipment of shoes to help open these doors.
This is where I need your help! The greatest need at the close of 2016 is for supporters who can make a financial gift or partner with us monthly to help reach people just like Mosi, who are in spiritual darkness.
Can you please help us meet our goal of $24,000 by December 31st? I humbly ask you to pray, and allow the Lord to show you how He wants you to join Him in the harvest. Soles For Jesus provides you with an exciting opportunity to reach across the globe and share His love throughout Africa. We are intentional about our purpose and strategic in our execution, and I would be so grateful if you can remember SFJ in your year-end giving. Thank you for your faithful support, and may God bless you this Christmas season.
Sincerely in Christ,
Diane Studer
Founder/ Director
P.S. As we enter the season of giving, you can make a gift on behalf of a friend or a relative, and I will send them a personalized thank-you card.
You can give online at SolesForJesus.org, or by returning the enclosed card.
*To receive 2016 tax credit, please postmark your gift by December 31st.